Take advantage of our exclusive offers:
- Oferta 2xClearfil + bonus

- Oferta 2 cartuse Honigum = 30% disc la varfuri Honigum Pro MixStar

- Oferta Varfuri Automix galbene

- Oferta varfuri Automix verzi

- Oferta pietre Arkansas (turbina)

- Pachete UF >3 cu 10% disc

- Apatos Mix granulatie mare - Oferta 3+1

- Evolution stz 30x30 - oferta 3+1

- Overta 3 Icon Vestibular
---
Total (tax incl.)
lei0.00
---
BisCem 8g syringe
Dual-cure, self-adhesive, universal resin cement
Used to cement crowns, bridges, inlay, onlay, dental posts (prefabricated, cast, fiberglass / carbon )
BisCem is very easy to use.
BisCem does not require that the surface on which it is applied be treated (engraving / demineralization, primer, bonding / adhesive). All these stages are no longer necessary. Additionally, BisCem releases fluoride, is radio-opaque and confers the most resistant adhesion ( for a self-adhesive resin cement ) on any common dental material.
Try BisCem and you will get quality results whilst saving time. BisCem simplifies procedures.
- eliminates the need to apply a demineralizer, primer, bonding
- universal cement
- radio-opaque
- it can be easily cleaned
- the thickness of the layer is ideal – 22 microns
Applications:
 Cementation of indirect restorations from:
- crowns, bridges, inlay, onlay of noble / non-nobble alloys (including metal-ceramic and composite-ceramic)
- crowns, bridges, inlay, resin onlay ( composite, acrylate )
- metal posts ( prefabricated or cast - RCRs ), fiberglass / carbon
- crowns, bridges, inlay, ceramic / porcelain onlay ( including aluminium and zirconium )
The best cement in its class
BisCem - dentin adherence
BisCem - metal adherence
BisCem - composite adherence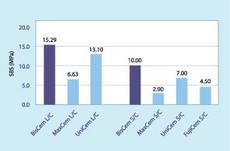 BisCem - porcelaine adherence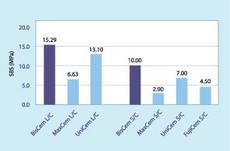 Cement thickness
NOTE: for aesthetic porcelain veneers cementations, the use of  Choice 2 is recommended
Available shades: opaque and translucent
Presentation: 8g double syringe + mixing tips
You might also like
8 other products in the same category:
No customer reviews for the moment.