Take advantage of our exclusive offers:
- Oferta 2xClearfil + bonus

- Oferta Varfuri Automix galbene

- Oferta varfuri Automix verzi

- Oferta pietre Arkansas (turbina)

- Apatos Mix granulatie mare - Oferta 3+1

- Evolution stz 30x30 - oferta 3+1

- Overta 3 Icon Vestibular
---
Total (tax incl.)
lei0.00
---
Germocid Polvere - flacon 500g
Sterilizant chimic la rece pe baza de acid peracetic
Se utilizeaza la sterilizarea rapida la rece a: echipamentelor endoscopice, fibrelor optice, instrumentarului chirurgical si stomatologic, transductoarelor etc.
Poate fi folosit si cu aparate automate de spalat echipamente endoscopice.
Actiunea sterilizanta se exercita dupa 10 minute de contact.
Produsul se prezinta sub forma de pulbere alba.
Dilutia este de 1.6% (16 g pulbere pentru 1l de apa)
Solutia este activa dupa 15 minute de la dizolvarea pudrei si ramane activa pentru maximum 24 de ore de la momentul prepararii.
100g Germocid Polvere contin: tetracetilendiamina 25g, percarbonat de sodiu 42g, antioxidanti etc
Mod de prezentare: flacon 500g
2 other products in the same category: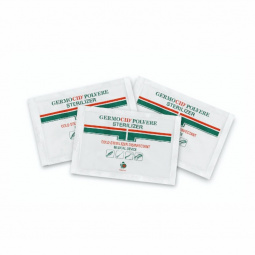 Regular price
lei322.00
Price
lei290.00
No customer reviews for the moment.