Lupe SurgiTel gama Micro (tip galilean/prismatic)
Cele mai usoare lupe! Gama de lupe Micro de la SurgiTel presupune lupe micsorate, mai usoare.
Factor de marire:
lupe tip galilean - 2.5x, 3.0x, 3.5x
lupe tip keplerian (prismatice) - 3.0x, 3.5x, 4.5x
Sunt disponibile atat in varianta TTL (through-the-lens), cat si in varianta FLM (front-lens-mounted).
TTL:
- personalizat conform specificatiilor dumneavoastra
- rame pantoscopice inclinate, pentru un unghi mai ergonomic si un camp vizual mai larg
FLM:
- unghi de declinare foarte mare
- tehnologie de stabilizare a lupei pentru o viziune mai clara
Gama de lupe Surgitel Micro cuprinde:
(Dati click pe poze pentru a le mari)
Lupele SurgiTel utilizeaza o tehnologie patentata pentru a reduce dimensiunea si greutate ocularelor cu prisma, pentru a obtine o lupa mai confortabila si usor de utilizat.
Un beneficiu suplimentar consta in mai putine limitari de montare, rezultand in lupe mai ergonomice.
Recomandam montarea lupelor prismatice SurgiTel TTL pe rame ErgoMax.
Lupe compacte si usoare, imagine clara, fara interferente!
Lupele SurgiTel se remarca prin tehnologiile patentate ce asigura o postura corecta, ergonomica, fara riscul acumularii oboselii, tensiunilor si fortarii articulatiilor si vertebrelor din zona cervicala.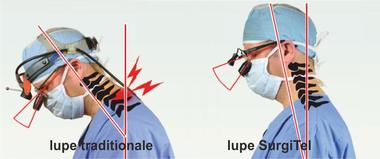 Lupele sunt montate cu unghi de declinare foarte mare, cel mai mare unghi real de declinare de pe piata (patent SurgiTel) = confort si postura corecta pentru utilizator
Lupele SurgiTel asigura un camp vizual mai larg, utilizand ambele lupe pentru un efect binocular. Un camp vizual mai larg usureaza munca si asigura rezultate mai bune.
Greutatea este distribuita optim si stabil pentru a lucra intreaga zi perfect confortabil Optica de calitate premium: claritate excelenta si camp vizual mai lat Distanta de lucru la alegere intre 25 - 76* cm, adancimea campului vizual 8-15*cm (*variaza in functie de model)
Toate lupele includ una din ramele disponibile SurgiTel Alte lupe disponibile - intrebati pentru solutii speciale! Optional contra cost: diverse filte, dipotrii in rama sau in lupe, rame Oakley, alte accesorii
OFERTA SPECIALA:
DISCOUNT 10%
PENTRU ORICE PACHET:
LUPE + LUMINA
2 other products in the same category:
No customer reviews for the moment.