Take advantage of our exclusive offers:
- Oferta 2xClearfil + bonus

- Oferta Varfuri Automix galbene

- Oferta varfuri Automix verzi

- Oferta pietre Arkansas (turbina)

- Apatos Mix granulatie mare - Oferta 3+1

- Evolution stz 30x30 - oferta 3+1

- Overta 3 Icon Vestibular
---
Total (tax incl.)
lei0.00
---
UltraSeal XT hydro Sealant for fissures bulk 1.2ml syringe
hydrophilic sealant for dental pits and fissures
UltraSeal XT hydro is the latest and best member of the UltraSeal XT "family".
Its hydrophilic chemical properties eliminate the need to use a primer, such as PrimaDry, to prepare and dry the drains and sutures, so both doctor and patient will save time.
Light-curing fluid composite used for sealing: dental fissures, pits, and in small and medium fillings positioned in areas of minimal occlusal stress.
It is also indicated as a light-curing base filling for deep fillings. The large volume of filler (58%) gives increased stability, greater abrasion resistance.
Advantages:
-Chemical properties ensuring hydrophilicity - simplified procedures without affecting quality.
- Advanced adhesive technology, which eliminates the risk of microleakage
- NEW: fluorescence - allows the clinician to observe the integrity of the sealant layer during post-application visits
- thixotropic
- low shrinkage
- radio-opaque
- with fluoride release
- allows the resin to be placed with great accuracy in the desired location
Available shades: Opaque white Refill
Presentation: 1.2ml syringe
2 other products in the same category: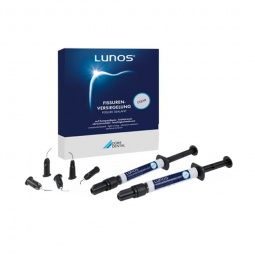 No customer reviews for the moment.